LOADING...
| | | | |
| --- | --- | --- | --- |
| When the current song has ended you'll see it here | | | |
Why do we like this?
I have no surf rock "band of the week" for you today, nor a sad guitarist from Portland. Today, I bring you pure joy: Fool's Gold! The last time I saw the Los Angeles-based band, I had purchased tickets way in advance, assuming that everyone and their mom would want to see this group in such an intimate venue (the New Parish in Oakland, CA). While this turned out to be an incorrect notion -- the space was actually quite sparse with people -- there was nothing that could stop the band from capturing everyone's attention.
Rocking an assortment of western, African, Middle-Eastern and homemade instruments, as well as singing in English and Hebrew, Fool's Gold (the band is made up of members of We Are Scientists, Glasser, Foreign Born, and The Fall) plays what can best be described as afro-beat -- (a sound pioneered by Nigerian musician Fela Kuti that combines traditional African rhythms with American funk and soul. Whether you hear it from the bass, drums, horns, or the choir of harmonizing voices, Fool's Gold's rhythm is steady, funky, and undeniably catchy.

After nearly two hours of hand-clapping jams, the band slowly started to put down their instruments and wandered into the crowd as the entire place chanted the chorus to their ending song. By the end, we had all formed a big circle, shoulder-to-shoulder, slowly growing quieter until our voices became a faint echo, even though we all wished we could just keep singing long into the night. It wasn't exactly your typical weeknight indie-rock show.

Despite being signed to a well-known independent label (Iamsound), Fool's Gold has not become the national hit that I thought they would. I'm not sure if they have been held back from major success because play within the lesser-known afro-beat genre or because half of their songs aren't in English, but if those is in fact the reasons, then the state of music in this country is just silly.

Like I said, this music is about joy. It's about dancing, rhythm, and beautiful melodies that make you want to sing along regardless of what language it's in or if you even know the words. You don't have to be a pretentious music snob like me to enjoy this show, you just have to keep an open mind"¦and bring your dancing shoes.

Fool's Gold plays the Rickshaw Stop in San Francisco on Friday, October 8. If you're in the neighborhood, be sure to stop by and bring your dancing shoes!

Check out KALW's Bay Area Beats for more information.
SIMILAR SONGS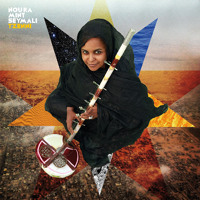 View more songs ↓