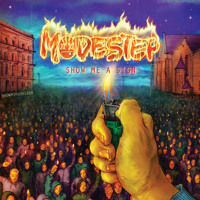 Google
What's so good?
By Jason Grishkoff | Dec 11, 2012 | Total plays: 32,171
Avec un nom comme Modestep, il est approprié que ce soit une bande dubstep. Mais ce qui me surprend, c'est qu'ils ont choisi de Coldplay "Paradise" de remixer. (Pourquoi j'écris en français? Je ne sais pas...)
The long and short of it is this: Modestep have pulled together a fantastic cover. It's clear that they put a good bit of work into it, and I must give them kudos for going the whole way and not simply remixing in some womp womp wobble on top of the original. Can't say too many artists are out there doing that right now.
This particular track came as a bonus for those who pre-ordered the band's recently-released EP,
Show Me A Sign
.
En attendant, je serai ici womp womp wobbling.