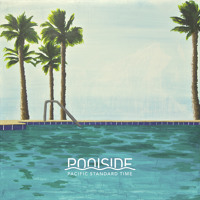 What's so good?
By Elizabeth Walker | Jun 17, 2012
HOLY SHIT. Welcome to the grooviest slowjam EVER. Poolside, admirals of daytime disco, just released a single from their forthcoming album
Pacific Standard Time
dropping July 9. Disclaimer, I'm a huge fan of this song. If you are looking for a negative reception, look elsewhere.
With the chillest intro ever created, "Slow Down" dankly settles over listeners like a weed fog around Snoop Dogg. The beats drips down with such nonchalance it sounds like it's about to break, and then spiraling synths serge forward. Poolside commands us to "slow, don't move too fast" - as if anyone listening to this has a chance to do anything quickly. If the BPM was any slower, it'd def be going in reverse.
Hearing this single sets great expectations for their upcoming release, so keep an eye out for that. For more Poolside, check out their Soundcloud page
here
; make sure to listen to their "Night People" mixtape, because apparently they know a thing or two about partying under the moon as well as the sun.
SIMILAR SINGLES