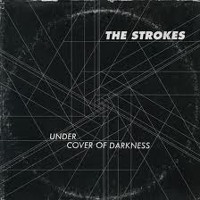 Google
What's so good?
By Jason Grishkoff | Feb 09, 2011 | Total plays: 35,407
Voila! The newest single released by The Strokes, "Under Cover of Darkness." The track is off their upcoming album
Angles
, to be released in the latter-half of March. This will be their first album since 2006's
First Impressions of Earth
, which I recall being pretty excited to listen to.
Understandably, The Strokes have a very well-established sound aligned with their name. Often, the challenge for successful artists releasing new work is to produce something that will excite fans and keep them on the edge of their seats, all-the-while not straying too far from their roots. With "Under the Cover of Darkness," The Strokes manage that: they've dusted off and freshened up their old sound, prepping it for a new era. Sorta. Given the "modern" sound evident in
Julian Casablanca's solo LP
, there aren't many surprises here.
Angles Tracklist
:
1. Machu Picchu
2. Under Cover of Darkness
3. Two Kinds of Happiness
4. You're So Right
5. Taken For A Fool
6. Games
7. Call Me Back
8. Gratisfaction
9. Metabolism
10. Life Is Simple In The Moonlight