LOADING...
| | | | |
| --- | --- | --- | --- |
| When the current song has ended you'll see it here | | | |
Why do we like this?
Jordan Bratton has quickly earned a reputation as one of music's fastest rising stars. Since releasing his critically acclaimed mixtape, The Grey Area, back in 2013, Bratton has slowly cultivated a growing fan base and unique body of work, resulting in latest release, the YOUTH EP. 
Bratton took some time out of his busy schedule to go into detail about his musical background, new EP and his love of Michael Jackson.
Tell us about your background in music and how you got interested performing.
I have been playing music just about my whole life. I come from a very musical family, with a father who is the music director for several churches in New York, a mother and sister who both sing and an older brother who plays bass and drums. My first instrument that I learned was the drums, and eventually I learned keys watching my father. But music comes very natural in my family. My interests in performing started at a young age. I landed a few parts in Broadway plays starting when I was 11, which gave me the chance to perform in front of big audiences every night. At 14, I was picked to play the young 'Jackson 5 era' version of Michael Jackson, in a touring review called Thriller Live. The tour went around the world for two years. After that experience I knew I wanted to create, play, and perform my own music.
When did you begin to start producing and recording your own material and what influenced you to do so?
I had been playing other people's music for so long that I had never really thought about expressing myself or how I could do it. It wasn't until a friend at church suggested I start writing songs. That made everything click. I asked my parents to help me buy a computer and protools and after that I was hooked. I would stay up all night in the basement making beats and writing songs. Early on, a lot of what I was making was influenced by R&B that was on the radio. I didn't really come into my own sound until I began working on The Grey Area.
I read Peter Schwartz (A$AP Ferg's agent) caught you live and signed you to RCA Records the next day. What's the story there?
Well it didn't quite go that way. When I was developing my stage show and putting my band together, I would perform under a fake name as I didn't want my fans to come out to see me until the stage show was completely ready. So we would basically have live rehearsals at venues with audiences who didn't know who I was. My team was able to pull a favor and I opened for UK artist Daley at his NYC stop of his tour. So it was pretty cool that my first show as Jordan Bratton was at the Highline Ballroom opening for Daley. My manager convinced Peter Schwartz to come to the show, and Peter was apparently blown away by what he saw.
A few weeks later I began doing my own shows at this great small club in Manhattan called Piano's. It's this little gritty venue that has the best vibe. Every couple of weeks I would perform with my band at Piano's with a friend, Adrian Daniels, who would open up with his band The Stoners. It kind of turned into a cool scene and after the second show, the word got out and all the Brooklyn kids started showing up. It would get packed. Peter Schwartz called my manager the night of the third Piano's show and said he wanted to bring some execs from RCA with him. My manager actually told him "No" and explained that we didn't want to start shopping for a record deal yet. We were still focused on developing my audience and working on the show. Without us knowing, Peter did it anyway.
We didn't know until the next day when one of the top A&R's at RCA called and said she was at the show and wanted to sign me. That was Rani Hancock. She told us she snuck in through the back and was standing at the back of Piano's watching the whole show. Shortly after we had gotten offers from two other labels, but decided to roll with RCA actually through Peter Schwartz's Joint Venture 1009 Records. We felt they understood me as an artist, and there was a strong passion towards my music.
Your first release was The Grey Area EP, which received a ton of critical acclaim. How hyped were you to receive such great feedback and did it make you feel like you were moving in the right direction with your career?
I felt like I was moving in the right direction once I recorded "Sinful World". It was the first song that I had done for The Grey Area, and once I played it for my team I knew I was onto something. I knew that I was capable of expressing myself creatively and get a reaction from people. There was a freedom there. After that it was like someone left the gate open in my head and everything just started coming out…. "Grey," "Midnight Rage." I completed the project in about 3 to 4 months. There was also so much great music floating around at that time… Yeezyus, Frank, Cocaine 80's, Jai Paul…which all challenged and inspired me to take chances and do me. The feedback that I got really felt great. We put the project out a couple of days before Beyonce dropped her unannounced album and broke the internet, so initially we thought the project may go unnoticed. But its a blessing that the music resonated and people found it through the clutter. The praise feels good because The Grey Area is an honest expression of who I was and where I was when I made it.
YOUTH, your sophomore EP is another delightful release that I can't stop listening too, and I'm sure anyone that hears it will agree. What are your thoughts on the EP and how has it improved on The Grey Area, or do you consider them completely different projects?
They are very different projects. The Grey Area was my first time exploring my musical capabilities and writing. It was a sincere project from an 18 year old kid that was hungry. I felt he had something to say and wanted to get noticed and heard. It was pretty much all me top to bottom. There was a tremendous amount of passion that went ito its creation. I would travel two hours each way from Long Island to New Jersey just for the opportunity to record at a real studio. The project didn't really have a lot of filters besides my managers and production company helping through it. It is very raw musically and there are a lot of twists and turns that don't follow the same rules of traditional r&b / pop music of today. YOUTH is more of an intentional project to introduce myself to a bigger audience. The song writing is more polished, thought through, and relatable. The production is a bigger sound that can be played loud on a home system or club as well as your headphones. On the first project I was trying to express what was going on inside of me. On YOUTH I am trying to express sentiments of what can be going on inside everyone. It is also a project where I collaborated on the production side and did some co-writing which helped structure the songs to make them more digestible. And of course the features from Chance (The Rapper) and Fab (Fabolous).
Speaking of Chance and Fabolous, how did you get those two on board and what was it like working with them?
Fab records at the same studio that the production company Im signed to, Rebirth, owns. So I would see Fab a lot, but was always kind of star struck, like "Damn that's F-A-B-O… right here." I grew up listening to him on the radio! Him and I got cool, and began playing each other our projects that we were working on. I played him The Grey Area, and "Danger" really stood out for him, and he offered to jump on the record. Very Natural. I also did some vocals on his song "Cinnamon Apple" on his album. As far as Chance on "Prisoner", I wasn't in the studio when that happened. I was at an airport waiting for a flight and my manager asked me what I thought of Chance The Rapper adding something to my song "Prisoner." It was actually a suggestion from the label since there was this empty big section to the song. I'm friends with Chance's little brother, Taylor, so I felt like it was all in the family. Lets do it! Creatively it makes sense. I love how Chance approached his verse. It was like he came into my world for a minute. He pulled the song together with that verse and summed it all up. Chance is a really great artist that I respect. He is so original and creative.
Do you enjoy working with rappers and are there any artists you look forward to working with in the future?
I do enjoy working with rappers. Hip-Hop is a big influence of what I do. Especially when it comes to my producing. I get inspired by producers like my friend Vinlyz. I dont want to be pigeon holed into being looked at as the R&B kid that always has a rapper on his songs in order to reach their audience. I look for those collaborations to come naturally and work creatively, not just because someone has a name thats buzzing out there. Probably, like a lot of other young artists out there, I would like to do something with Kanye or Andre 3000. Those two pretty much set the standard and bar for creative hip hop art.
"Victoria" is one of my favorite tracks, and I detect a little Michael Jackson influence on it. Has he had an impact on your sound, and what other artists have helped shape your sound?
It's my favorite as well. As soon as I made "Victoria," I knew it was something special. It was written from a personal experience and it's meant to be a song about hard decisions. When you know someone may be the one, but not the one for you right now, because you have other priorities or responsibilities to yourself. The original version of the song is a much longer version with grittier production. We had it touched up and reproduced to resonate to a larger audience. I'm hoping to put the original version out one day, maybe for a mixtape in the future. As far as Michael Jackson's influence on that song… he influences ALL OF MY SONGS! He is the King of Pop. Him and Stevie Wonder are my all time favorite artists and inspirations on what I do.
What are the plans for the next 6 months? Is an album on the horizon?
Thinking about releasing a mixtape within the next 6 months. There are a lot of great songs that didn't fit YOUTH that I think would be great for a stand alone, edgier, project. We will see. Other than that, I'm in the process shooting videos for songs off YOUTH, as well as locking in summer shows and a fall tour. In between I will be recording my full album which I expect to come out the top of the year. Also, Im going to bring back those gritty shows at Piano's in NYC where it all started! 
You can grab a copy of YOUTH here.
SIMILAR SONGS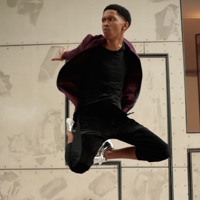 View more songs ↓