LOADING...
Hey New York! Do you like shows? Because on June 6th we're hosting *ANOTHER* a cool showcase at Our Wicked Lady. Want more details? You'll find them
here
.
2016 was the year for a lot of firsts, a lot of en masse realizations about the way the music industry works and acceptance that it isn't going to revert to what it was. The 'youth' are growing up and the simplicity of devices and software out there means music-consumption and people's relationship with music has changed dramatically. Spotify jumped from 30 to 40+ million subscribers, Amazon launched it's new streaming service in select territories, all three major record labels (starting with Warner back in May) reported streaming as it's primary source of revenue and the download industry pretty much hung it's coat up and went home. Music is now not just something you listen to, it's something you share, something that enriches your activities and emotions in a way never prescribed before and it's something you interact with via intelligent music videos and socials through apps such as Musical.ly.
Thinking back to this time last year a lot of these statements may have been sneered at by some and deemed unlikely by others. However, the story is far from perfect.
Income from streaming services to labels and artists alike is being questioned heavily, with some services being targeted in explosive outburst of criticism and anger by certain creative individuals. Of course this doesn't stop some artists doing a U-turn (Taylor Swift being the best known example thus far with a Spotify addition on the cards), but not everyone can offer the allure and promotional opportunities that Apple Music can. There are also criticisms from other sectors of the music industry; radio for example has been one of the first to suffer from both the sheer volume of on-demand curated and personalized playlists on offer. It's been declared redundant by some streaming professionals due to it's lack of insight into it's own audience via data. Streaming has been identified as one of the key influences of a static and homogenized chart. On the other hand, new talent has in some instances a much greater chance of breaking through for a flashflood streaming success, but the bigger picture is still showing the top artists (with the backing of a full marketing campaign and label support) owning the chart-topping positions, complimenting radio and traditional sales successes. Arguably the time of the one-hit-wonder or novelty Number 1 has shifted substantially.
For those working in the industry it's a time of uncertainty and bold exploration. Apple has explained that it's taken up to 10 years to build up the unique collaborations, work-ethic and skillset that was required to get Beats 1 and Apple Music into the shape it's in now; a self-professed world-leader of curation and music experience. The labels are really delving into their playlist brands all vying to crack the code of perfect curation converted into revenue. Whilst they rely on the medium of streaming services (owned by rival brands) this ambition will always be quashed with an aggressive and bullish nature of stealing ideas and initiatives observed. Tastemakers, on the other hand, have a unique opportunity to go from zero to hero, with up-front playlist concepts and/ or strong curation placing them in the eyes of huge audiences who know them only by their username. What a world to be in when an anonymous curator in Spain can have more active users on their profile than an entire major label.
The world of streaming, 2016 style
Let's start this dissection of 2016 by taking a look into the streaming world in-depth. I'm betting if you're reading this and you don't have a streaming account or indeed use a streaming service regularly, you are probably an extra-terrestrial. Or have just come back from a decade in the mountains getting back to the nature. Welcome back if so; the world is a far more convenient place than you could ever imagine; Pluto is now no longer a planet and the Prince of Nigeria no longer emails you anymore asking for money; a lot has changed. Especially so in music, whereby streaming over the past year has had an effect on charts, radio, album deals, exclusives, A&R, music industry recruitment, data consideration, curation as an art (and as a craft), and human habits. It's dividing generations with the way they consume music; it's leading the record industries in how they work with artists and how they reflect and market their music; and it's essentially looking to stick a finger into many more pies than first imagined: original content, label services, conjoining video and purchasing outlets to create a transnational group of elite brands who are your first port of call for day-to-day needs.
Personalization on streaming is now getting more sophisticated and intelligent than any other music service provider has done before. Again, Spotify are leading the pack here, but others are barking up the tree with their own offerings. Well before the likes of 'Discover Weekly' popped up as a new offering on our side bar, the likes of Deezer and iTunes were streaming personalized radio to us. I guess the difference with something like 'Discover Weekly' is that after a few weeks of picking up your listening habits, it uses metrics such as BPM, genre and artist preference, alongside songs played to generate something that's meant to get your aural taste buds watering. Overall, people are finding it at least interesting. Some love it, some think it's rubbish, but those that are broad music fans are finding that actually it's quite informative and useful. It's another innovative product that is slowly becoming the norm expected by consumers in a digital age; personalized and generalized all at the same time. Can it be done without sacrificing the human-touch of fine-tuning and hand picked curation though? Time will seemingly tell, or practices within such companies will determine when and where these human inputs offer the most value to the output vs. algorithms.
The older generation ('older' now defined as a 35+ audience) are not as open to streaming as their teenage counterparts. Despite claims by Spotify that if they have the "appropriate content, they will come," I think there's still a cultural shift for this segment that will take a few more years to convert in larger proportions. Sure a parent or an uncle or aunt might be aware of the services and may even use them from time to time, but they've got up to 30 years habit of having radio, CD, vinyl and cassette to overcome and this won't be a quick thing. The right ambassadors, brand partnerships and an all-round collaborative approach from the streaming services, broadcasters and artists will be needed to successfully advertise and attract this sector. Even then, this wont be a quick thing, with slower results than that of younger demographics. In my opinion Amazon Echo has (currently) the best chance of reaching this demographic. Launching in the US recently (with UK, DE and more territories in latter phases to come), this piece of hardware is like an intelligent Siri or Android Voice Commands, and learns from you as you use it. Its primary location is within the house and like other voice-controlled intelligent software, you can have conversations with it as well as let it link your speech to information, purchases and services via its internet connection. It's very much the future of customer servicing in the home and one of its many offerings is to connect its user with Amazon Prime music services. Imagine how convenient and how much of an attractive consumer proposition streaming playlists and individual tracks just by talking to a speaker is; the potential here is massive. Sounds like something even my computer illiterate middle-aged mum would be able to garner and therefore a real opportunity to tap into this technology-hesitant demographic.
As with any music outlet if you view it in isolation it doesn't give you the full picture by any means. By look at streaming charts you'd think Drake, The Chainsmokers and Justin Bieber were the only artists releasing records now. You'd also be lead to believe that the likes of Daya, Kiaara and Mike Perry were international superstars. They've done well for sure, but they're still consciously unknown even to the masses that stream them via playlists. If you just popped the radio on a few times a week you'd hear the mainstream mass appeal stuff out of sync with what you're hearing on streaming. In the UK acts like Olly Murs, Ellie Goulding and Blossoms have been supported across multiple radio stations, but (particularly with the latter being classed as a specialist or niche act) the number of plays is not translating to the increased sales and chart rank picture. The traditional sales chart is heavily skewed by those older listeners whose habits still involve picking up a physical CD, as well as by those young enough to not have an income yet and perhaps be forced to consume their favorite tracks via YouTube. It's a messy picture that essentially boils down to what type of audience prefers what platform. I believe that it requires looking at at least 5 of those platforms alongside each other to try and begin to understand what has been happening at a global scale: radio, streaming, Shazam (or variant) and traditional sales.
Speaking to many colleagues in the industry I've received a very mixed reaction when asked 'How good was 2016 for music?'. Undeniable returns from top global artists have occurred but the buzz has seemingly trailed off. Much focus of 'emerging acts' has actually been directed towards acts that technically broke last year. Rachel Cervonaro (Artist Manager Hooked PR/ Head of Music SubTV), has summed up this sentiment: "For me this year seems to be all about these major returns from established artists Radiohead, Avalanches, Tribe Called Quest, De la Soul and hopefully Gorillaz (we probably won't see that till 2017 but the hype has been there). I think there has been a major focus on these returns, some could argue slightly less attention on emerging acts....up for debate but in comparison to 2015 I haven't felt the drive and hunger from the media & the industry for emerging talent". A sentiment echoed via many music fans too.
As mentioned previously, the break down of global barriers has accelerated in the last 12 months. Initially sites like Bandcamp, SoundCloud and YouTube enabled music to travel instantly from bedroom or studio to a global audience. With streaming this is not only made easier, with most music being included all in one place, but powerful playlists which filter music for the masses have made enthusiastic listeners more lazy about discovery. One of the most contentious points of discussion among music fans and employees alike is the power of the gatekeeper or Music Editor of these playlists (radio, streaming or editorial content). The poverty of time that causes many to accept editorial playlists as the beginning and end of music enjoyment and discovery has steered exposure of music through the hands of some very powerful curators,  branded playlists and outlets. Perhaps 2017 will be the year that people really do make a little effort to regain that tenacity they had to discover music in the first place. "I've had so many people tell me that recently. They just give up on finding new music because they just don't know where to start or where to go so they wait until Spotify puts it in their Discover Weekly or until Radio 1 playlist by which time these emerging artists have been funneled down based on personal opinions and what others predict the public want. There is a lack of hunger and…you end up going to the people you trust and running out of time to do your own searching and exploring for new music, that you can really champion." Rachel Cervonaro (Artist Manager Hooked PR/ Head of Music SubTV). 
If you forget about analysis and just thinking about the music, you could argue 2016 has been a brilliant year to be listening to music. Everyone from Calvin Harris to Beyoncé (global established) and The Veronicas to Skott (new kids on the block) being talked about by various music scenes. Whatever your taste, 2016 has offered a broad palette of genres to select from. As a first observation, downtempo production is definitely 'in' at the moment. From Calvin Harris to Rihanna to Major Lazer; pop, electro, hip-hip, RnB and dance have all slowed the pace a little. Pop music has become more elegant and sophisticated with elements of RnB and electronica integrated into hosts of new music in order to make it sound edgy and sexy to the more casual listener. Electronica has diversified massively, giving way to newer styles such as future bass, chillwave and the next generation of trap; all with their pop counterparts. If you look at the top 10 most streamed songs on Spotify (and overlook the fact there's 3 Justin Bieber appearances), you can see clearly that rave-bunny or rock'n'roll is not the order of the day anymore. Pop is definitely not a ballad with a four-chord construction either, it has become more elegant and sophisticated and has spread its wings, moulding with other genres, making it far more exciting than it's contemporaries from a few years ago.
DIY acts with more liberal styles are also regaining their prominence with a wide range of acts from RatBoy to Jack Garratt to Chance The Rapper (he still counts with his independence from labels and whoever else intact). Lets not forget the beast that is future RnB, with Frank Ocean's return, Rihanna's dabbling and new stars rising from JONES, Nao, SZA, Sampha and The Weeknd all bringing a little bit of that nu-wave RnB and soul with great reception. Underground dance music has found a real home in the world of streaming as the Soundcloud natives are easily transferring over to platforms with vast access and well-curated playlists from various tastemakers that allow them to save time and energy trawling the net for the latest mixes, remixes and DJs. The threat however, comes from the sheer size of the US streaming market pushing the traditional EU-dance leaders and remix gurus to the middle/bottom of the pack. Without the stand-in of human curators to give the numbers some weighted consideration and the threat of automation based on "highest number wins," means it's worth noting the effect this will have across all genres and styles in streaming playlists and beyond.
Throughout all of this it's important to remember what a huge role streaming has been playing in breaking artists who we would have been dismissed as "too niche for daytime." By placing these acts in New Music Friday offerings or key editorial playlists select underdogs are getting a shot at reaching a huge audience via a new medium. Joel Adams is a great example of one who has been bumped up in stature through streaming and championed Spotify alongside his own management, labels and radio.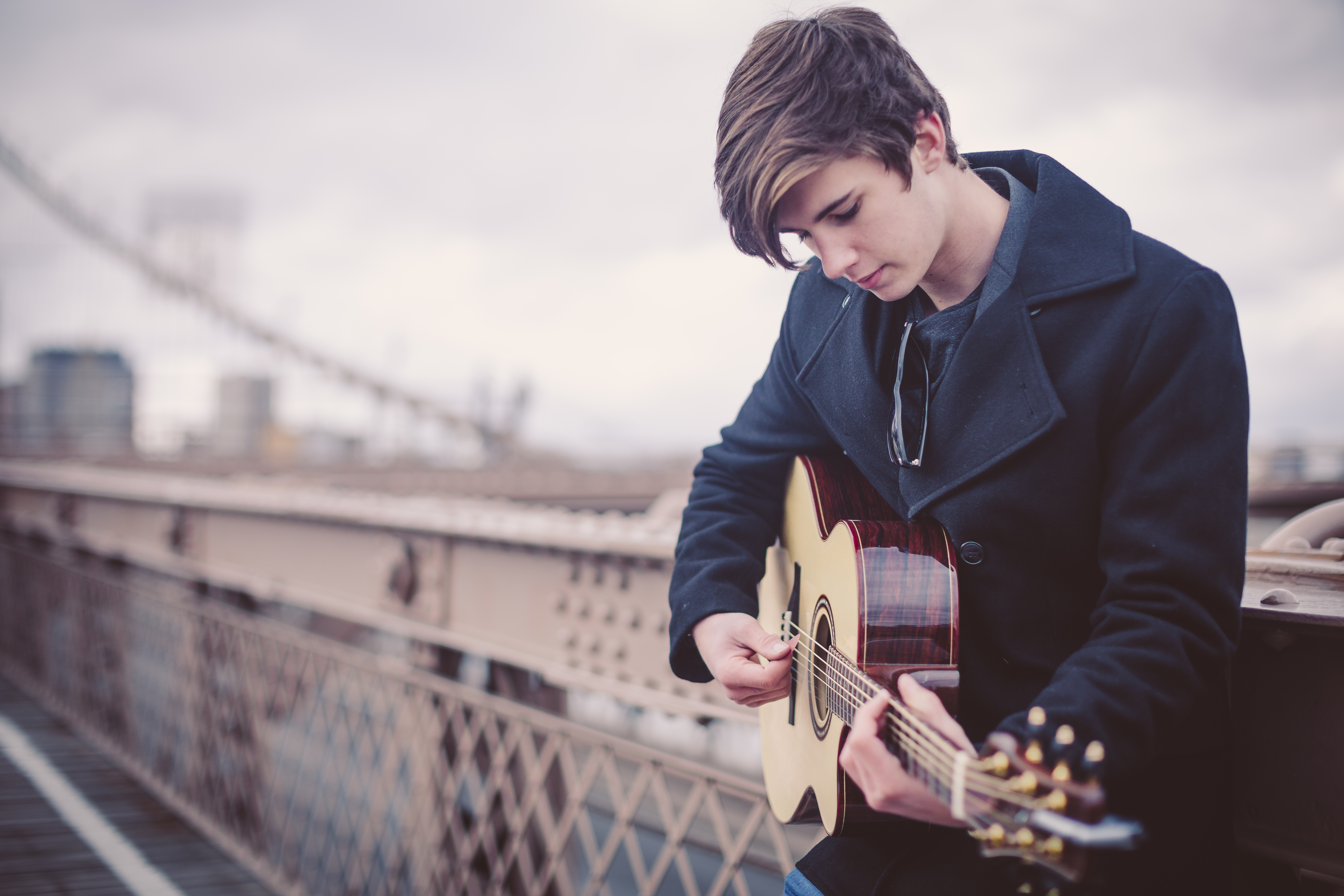 Spotify are also using their 40 million+ subscriber database of behavioral and musical data to inform them what kind of music people want to listen to. This is resulting in mood setting, basic instrumental tracks being made by the service to throw into the mix of some of it's algorithmically generated playlists. A playlist service making music? Who would have thought? We are consuming it, unaware and happily it appears. It's a changing world and the more insight and conglomerate staffing structure that the streaming services get, the better placed they are, not only to serve their audience better than other music platforms, but to gather the expertise from the industry all in one room. Whilst one side argues that this data is making the mainstream chart homogenous (as we discussed before with chart positions and 'breakthrough' acts), it turns out that fine-tuning and predicting mass appeal can have a number placed alongside it to support that gut-feeling the curators have.
Where do record labels fit?
Streaming services are also becoming savvier about their business potential; preparing campaigns that appeal to the artists directly, with Apple Music offering creatives a cash-injection on campaigns in ways the labels have not yet done. Frank Ocean is the poster-boy for this with his "2 albums in the space of a few days" effort that started with Endless via Universal and then Blonde in collaboration with Apple Music. There has also been much discussion on the true need for a traditional record label, with artists such as US hip-hop star Chance The Rapper through to grime front-runners Stormzy and the Boy Better Know collective. The latter two being well known for their self-sufficiency and continued pro indie-operations stance. Beforehand, without a record label (or a large sum of money), you wouldn't be able to invest in recording equipment, have networks with which to collaborate and improve your chances of success or have access to the distribution structure that enable more people to hear your music. Streaming services, digital music formats and the internet have meant that a huge part of the operational benefits of signing with a record label within your own country are arguably redundant. The recent acquisitions and closures of various independent labels have been growing in number, with only those with sizable brand equity or a unique roster surviving in name.
The thing that record labels will always be able to offer is combined experience, knowledge, global network and infrastructure alongside marketing expertise and budget beyond your basecamp. But what…what is this we've seen Apple do with Frank Ocean? They've offered him a bunch of money to record his music and created an exciting release campaign and marketing schedule to go with it. Oh…and digital distribution. Looks like maybe it's not such a unique model to the record industry after all. Except the one tiny fact, which is the talking point of many discussions and commentary: exclusivity. The rumor is that the head of Universal Music has banned exclusive windows on streaming services, TIDAL is under constant criticism for 'holding back' artist albums and singles on their own service and the loser in all of this? The everyday music fan who can't afford the multiple streaming subscriptions or is trying to make their life easier by just having one music-player app on their phone. They may become disengaged with the artist they would otherwise invest in and support organically -- some even turn to piracy to hear music. On the other hand, this adoption of streaming services and willingness to be served new music in playlist formats means people are being exposed to a larger variety of music more quickly.
And what about blogs?
Blogs are also regaining popularity and it's paying off dividends for bands as a strong alternative voice in their development. Olivia Whitton, who has spent several years working across radio and PR echoes this: "One thing I've noticed recently is the rise of successful artists without the big hand of a major label. More now than ever it feels like there are so many artists, especially in certain scenes, that get to a point of success through other means. Either through online promotion, radio plays, streaming, word of mouth, however and this feels really important. I feel like 2016 has been a year that radio stations and other music discovery platforms have taken more of a chance on upcoming / breaking acts and this has really reflected in the success of certain bands and acts." (Olivia Whitton – Radio Plugger, Brace Yourself PR).

Let's think about both the conscious success of artists like The Chainsmokers and unconscious adoption of artist's music like with UK rock band King Nun. The numbers The Chainsmokers have achieved has been largely lead via global editorial playlist placement and then overall adoption by that audience. King Nun on the other hand have had some editorial support in their home country, but it's the commitment of blogs, radio and other platforms that have garnered their fan base and stabilized a position for them to build on going forward. Jason Grishkoff – Indie Shuffle's Founder – shared this headline; "Big streaming services go head to head while blogs start to regain control and reassert their role in the world of music discovery (SubmitHub)." They may be able to drop a relatively unknown band into a massive playlist for a week and increase streaming figures unknown, but once the spotlight has faded the act tends to sink back into obscurity. Playlisting in this example is just another cog in the works rather than the key to growth. Ultimately, it was the words and imagery that these outlets (blogs) provided the consumer that helped them connect with emerging artists in a less flash flood manner.
Business-wise it makes sense to host exclusives, but as I've learnt from my years in radio working with DJs from across the globe, it doesn't really matter who played it first, it's how you presented it and what it was packaged in. Pressing play (or streaming/ selling) a song doesn't mean the audience cares about your service. But try doing something original around the release (example: Frank Ocean's "Blonde"), original with the content (example BBC Radio 1's album listening parties), original with the presentation (Spotify's special app for Bastille's 'Wild World' album release) or original with the scale at which it's promoted on a service (example Apple Music and Ariana Grande) then people won't remember which brand it was associated. It's the tough lesson of legacy, music x tech, branding and marketing; one which Jimmy Iovine explained at great length in a well-articulated interview earlier this season. It's a world the traditional music industry couldn't have imagined a couple of years ago, but clearly one that artists are open to and that will force them to react and revive their stature in the online creative music space.
Upon reading through the hoards of articles, commentary and analytical pieces in preparation for this piece I stumbled upon a rather succinct and clear infographic by Reportlinker that gives you a clear headline deciphering overview of what the key issues are for the music industry and what a lot of key articles have been addressing in the last 11 months. Perhaps if you take away anything from this in-depth look at streaming from the article, you may keep this at the forefront of your mind:
Of course though the music world does not revolve around streaming. Without an artist you won't get music, and without fans that enjoy the music and connect with the artists you wont get consumers. Music is becoming more social than ever. It started with 'sophisticated memes' and elaborate real-time YouTube or Facebook creations that mixed micro-messages with music. Then it progressed start-up ideas such as MSTY (My Song To You) that tried to offer a simple DIY-versions of pick your "image + short music extract + text" which could easily be shared through today's sophisticated apps and social platforms such as Musical.ly that combine fluid music sharing with a full-blown "vanity x social platform" spin that consumers and celebrities alike are using. There have even been celebrities born out of apps such as Musical.ly; young teenagers whose early engagement with the app has lead to artists being profiled by the demographic of their noticeably young following; a position that teenagers all over the world (and brands with money) are aware of their social power.
The rise of playlisting
This is an age where playlists have become something that you use to communicate, either as a professional enterprise or as something you'd traditionally say in person/ write in a letter/ email for. Apologizing for losing a cat, writing the 'worst playlist ever' is a means of letting other people know what that feels like. Where emojis can form whole sentences or where the art of writing anything more than 140 characters is considered 'long' or in-depth reading. In the end, if the result is that more people are listening to and being exposed to more music then this is a good thing for individuals to grow, learn and be inspired.
Personalization is everything and luckily (it seems on a sliding scale of great to getting there) most major music providers in the industry and broadcast side are getting this and reacting to it appropriately. There are still improvements to be made however, as the traditional brand leaders in broadcast are having to work overtime to offer something distinctive and engaging alongside streaming services, labels are having to start to become D2C brands at a multi-media platform level more than before and streaming services are having to mould into version 2.0 with some taking to production of original content as Netflix did, to continue to inspire and attract subscribers. Artists are having to talk more so than via lyrics than ever before and they're having to straddle the global vs. local offering so as to appear a superstar whilst giving something to each of the regional fanbases too. They're having to be social media producers, journalists, comedians and pop stars simultaneously with the help of their team otherwise they fall behind the curve and below the expectations of millennials who expect everything from their favorite artists. It's a tough world, but one that highlights just how important it is to always be turned on and aware of your surroundings to succeed.
A large proportion of this article has looked at streaming; mostly due to its dominance in both the distribution, revenue and consumption markets. However blogs and radio are still proving their worth. Earlier in this article Olivia Whitton flagged up the important of these avenues for non-mainstream exposure, but it does seem that in an attempt to project a brand value and build equity that blogs are reestablishing their stronghold in niche music and discovery. This is what they have always done, but it seems like the shift into streaming consumption has meant many more have come to their doors and they've stepped up to greet them with open arms and high quality content to tempt them in. They're standing proudly aside from radio as overall it becomes more mainstream in an attempt to challenge waning reach and listening share in it's audiences. Right here at Indie Shuffle we've spread out output to YouTube, formed an editorial news wing and intensified our playlist selection all with editorial leads, not data. Others have physical or e-zine content to further project their status but they all offer a rich and clear editorial offering with brand ambassadors that are ensuring they remain a stronghold in exposing music authentically to audiences.
What about radio?
Radio is being listened to for shorter and shorter periods of time and listen back is the new listen live. As music consumer brand proposition radio stations are having to push the right buttons in order to attract audiences and continue the habit of radio listening in younger generations. Let's look at BBC Radio 1Xtra in the UK for example; it's spent the past 14 years aligning itself with the UK urban scene and championing acts from grime through to afrobeat through to RnB before anyone else. They created a culture around their network and a real sense of inclusion and belonging the audiences tuning in which will ensure its audience remains somewhat loyal in this busy multiplatform world.
Triple J Unearthed in Australia is celebrating it's tenth year on air and they are celebrating some fantastic success not only as a station but on having supported and helped develop some of Australia's most defining and successful artists from all genres. They have continually shown that they are on the cutting edge of emerging Australian talent and supported an impressive and numerous list of artists whom now have achieved national and international success since being discovered, (in part), by the network. Their affiliation with artists and their presence socially, culturally and physically at events is unrivalled in their country and a strong example globally of how radio can survive and be valued by the public. They are an asset to both the domestic music industry and now at a global level by encouraging a rich and unrestrictive environment for young artists to make music and to then introduce this in a contextualized way to the public.

Where the cracks are starting to show are in the less niche and clear remit networks. Missy Scheinberg (Day-to-Day Manager at Lunatic Entertainment) says, "The gap between alternative and top 40 radio is getting smaller and smaller; top 40 is getting "weirder" and alternative is getting more "pop". " Both strengths in terms of having a fresh take on radio programming formats but a real alarm call for the larger networks such as BBC Radio 1, NRJ, 3FM or CBC Radio who will need to consider a branding exercise to assess core artists and editorial content in order to reestablish their offering and appeal. I think if radio networks all had the same approach to identity and sound, as places like BBC 6 Music or Triple J radio would be a fierce competitor in their multiplatform world. The next 2-5 years will be a make or break time for radio stations with their reactions and strategic approaches to streaming and on-demand listening a game-changer for their future position.
What's it like being an artist in 2016?
Being an artist, especially one that's doing it full time, is becoming more and more of a difficult thing. It's not enough to get signed or have a development deal, if you are lucky enough to get that far. It's about creating the ultimate campaign of exposure and general public interest, finding a like-minded management team that have the same interests as you but can and are willing to push you to go further and try new things to enhance your position. The fact has never changed that you can write amazing music but never make it beyond your hometown, but now with the right buzz and placement on playlists, blogs and certain influences twitter feeds you can build in ways never before possible. Will Bloomfield, One Direction's manager, recently commented on how hard it is to break an artist; "We're currently breaking songs in our business world and that's much harder and it takes much longer [for a potential fan] to buy into the artists proposition, which means we have to look at the trajectory of an artist. It used to be two to three years, whereas now it's more like four to five years." This is certainly true for some acts with this initial 'flush' of exposure alongside a strong management and a sound that is working in the current scene all connecting at once. I think the lesson that still rings loud and true though, is that you can make decent music but still never make it outside of your hometown, but if the stars align and you generate the right buzz (from the right people) and support from select music editorials you can get a really respectable return. UK artists HUNTAR has been writing new material after an initial introduction a couple of years back, he's returning to the scene with fresh material: "I feel like 2016 has seen more great music discovered than ever before; it's an exciting time for emerging artists. I've had some amazing support from streaming services and started to hear from new fans all over the world which is pretty rad." With a solid campaign and team behind him it feels like there's a good set-up for playlist additions, blog support and appetite for live shows to stand him in good stead for 2017. The next steps are for key editorial figures and the general public to become advocates for him as an artist and help push the general buzz to the next level.
The one thing to note here however, is that HUNTAR's musical style of electro / alt / pop is one that is widely accepted and yet unsaturated. UK rock outfit Cheap Meat have had a tough year in terms of acceptance and break through. Ross Drummond, frontman and guitarist of the band said: "maybe it's just that trying to be a rock band in 2016 is career suicide, in fact, it's not career suicide because I don't think you could have a career, certainly not in the UK anyway."
It's strange because it's never been easier to get your music out there for the world to hear, but it's getting ever increasingly difficult to get it heard by the right people when you do. This is prime example of ticking all the right boxes, yet slipping through the gaps. Despite some credible live shows as headline or support, additions to festival stages, and support by niche radio stations the lack of playlist presence has meant they've had to address additional battles. Now that the Majors have finally realized the value in streaming services the walls have been built up and gone around all the playlists that can get bands the exposure they need, on Radio as listening figures go down, stations are giving less and less space for new bands to break onto the playlists as a result promoters are less likely to take chances on new bands and so support tours are hugely contested and given to pals or bands signed to those major labels where the advertising spend can appease the promoters.

Live performances?
Here Ross addresses another important topic in music: the live performances. Ticketing, booking and promotion have all been the subject of heated debate and discussion among the artist community during 2016. The headline in recent weeks has been that around secondary ticketing and the sense of theft that artists feel through touts and sites that encourage upselling. In the UK events such as the AIM Awards were sponsored by StubHub (the secondary ticket arm of Ebay), which received a massive backlash, and many major labels have been very vocal in rallying up support to have sites like this regulated or shut down. A secondary ticketing campaign went to parliament in the UK – the digital economy bill – to outlaw the use of tout-bots and it looks like a fan2fan exchange environment is appreciated and supported by government there. President Obama has just signed a law making tout bots illegal and it generally feels like the artists, the fans and the industry are getting those crucial first steps in place to take control back.
Very recently Spotify announced its partnership with Ticketmaster. The plan is to email fans with concert recommendations, thus pairing up streams with an artists strongest revenue source; live shows. They'll also still use Songkick for shows that aren't serviced through Ticketmaster so the platforms offering won't become dominated by the headliner tours only. This will help only instigate a culture and habit of live music attendance with the service highlighting the additional opportunity to a digital audience who may not have considered gigs before. Apps such as Dice have also seen huge growth with many bands, promoters and venues preferring the service. No fees, easy to use, no duplication and clear advantages in a technology-driven, paperless environment.
Okay so... summing it up?
It's been a super-charged transitional year for the music and broadcast industry. In a twitter headline you could say:
Digging deeper it's clear to see the swift adoption of streaming among audiences. Streaming services have started to flex some rather big muscles in 2016 and showed their true impact, infiltration and editorial lead at a local and global level. Radio, blogs and streaming are having to assess their brand equity and projection to stay relevant, producing great content consistently and making sure this has potential appeal to a large audience who may not already be on their platform. I feel however some have done this at the cost of 'staying safe' and sticking with tried and tested formats and tracks rather than taking those editorial risks to define their worth.
As a New Year resolution for you all I would suggest you try exploring the amazing wealth of music and related content that is being flaunted to you via adverts, tempting subscription offers and via our old faithful, having access to The Internet. Find hubs, stations and playlists you like, but don't be lead by one outlet, falling into the tempting cycle of just accepting what has been placed in there as the only musical offering. Follow your ears and your heart (and probably what your friends are sharing with you too) and don't be scared by the unknown. You never know, an unfamiliar name on a blog or in a playlist may go on to become one of your favorite acts, become the soundtrack to a key moment in your life, or change your world.
Many years ago as a child I was listening to the radio through a Walkman cassette player. I was scrolling through the dial trying to find something that wasn't chart radio or whatever my mum was listening to (mostly soul and Motown) in an attempt to be excited by music again.
Whilst doing this I stumbled upon a track that I couldn't really have described beforehand. They were playing in a way I'd never been exposed to before and the DJ who came off the back of that track said they would be "the most exciting rock band you'll hear this year." The band was The Hives (with "Hate To Say I Told You So") and the DJ was Zane Lowe. My life started there. Everything I am today is somehow rooted in hearing that first rock song and making a conscious choice that I wanted to work with music for the rest of the my life. Go find your passion, find your teachers and trusted influencers and make 2017 the best in musical exploration you've ever had.